InvestXE is a pioneer in online trading with excellent trading tools and safe trading conditions. By offering over 16,000 instruments, the broker provides traders of all skills an incredible opportunity to invest in profitable trades. Traders will be spoilt for choice with its wide range of assets ranging from forex and commodities to cryptocurrencies.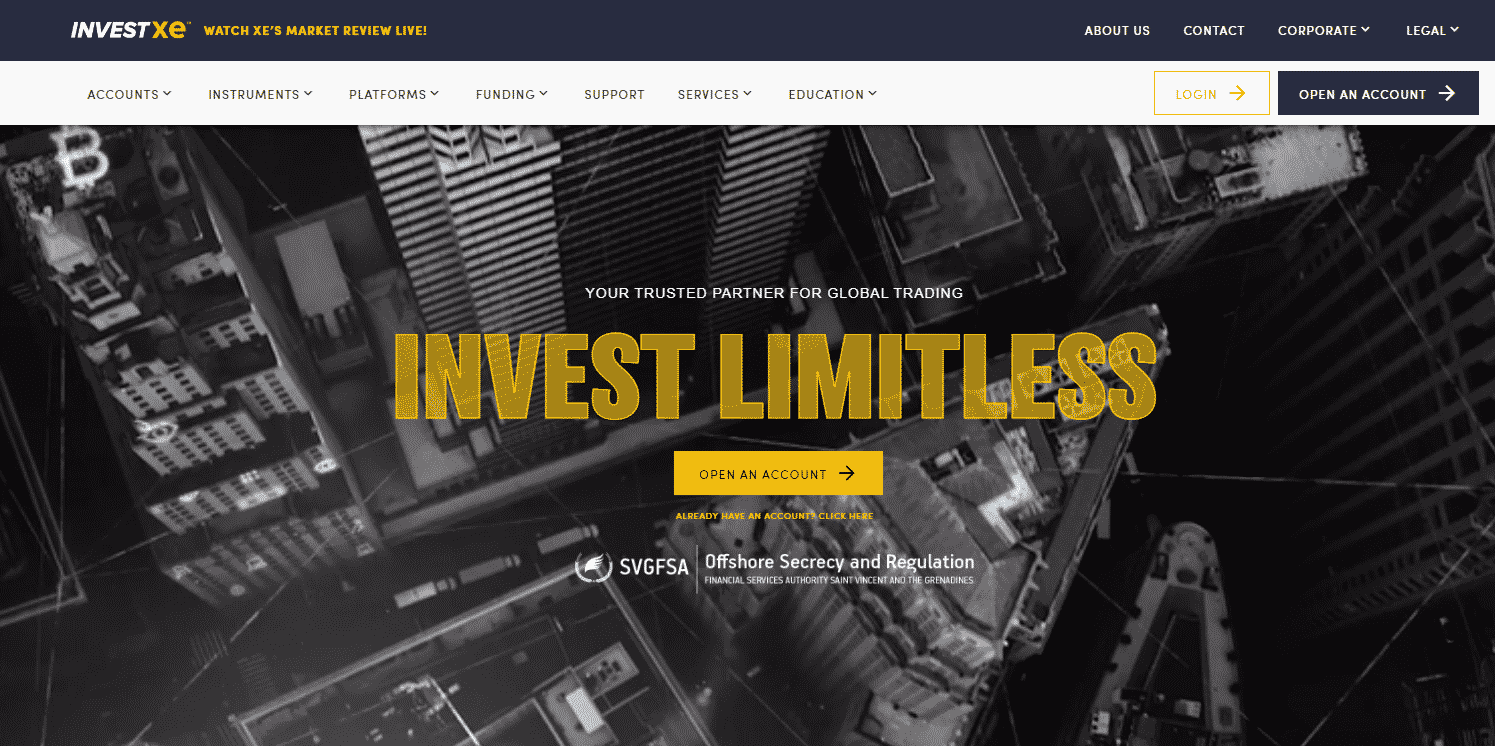 To make a perfect trade at InvestXE, traders can leverage from its comprehensive set of research information, rich educational resources, and helpful 24/7 customer support. With a client base of more than 100,000 spanning across 170 countries, InvestXE undoubtedly is one of the largest online brokers.
Keep reading the detailed InvestXE review to learn more about its advanced trading features, outstanding services, and guaranteed benefits.
Trading Accounts
Our InvestXE review began with the investigation of account types it offers to meet trader needs. Traders can choose from Primary, Professional, and AutoXE accounts and customize them depending on their requirements and experience levels. Let us look at the different tiers of trading accounts available.
Primary Accounts
Primary accounts have been split into three tiers – Standard, Progression, and Advanced. These tiers are best suited for beginner and seasoned traders alike. By opting for any of these, traders can access 16,000 instruments under six asset classes and top-notch trading tools.
Standard Account
Novice traders can open a Standard account by depositing the minimum BTC equivalent of 500 USDT.
Progression Account
The Progression account features tools that can help new traders trade successfully. After depositing the minimum BTC equivalent of 5,000 USDT, traders can access different instruments using the MarketPro 1.0 platform. Expert tips, coupled with webinars and InvestXE Trading School, could be a great way to upgrade trading skills.
Advanced Account
The Advanced account is designed for experienced traders, and the minimum deposit is a BTC equivalent of 25,000 USDT. The Advanced account also comes with 24/7 technical support, multiple assets, expert tips, MarketPro 1.0 platform, and access to webinars and the InvestXE Trading School.
Professional Accounts
By opening a Professional Account, [H1] traders have endless opportunities to take full advantage of the financial markets. Professional Accounts are available in two tiers: Gold and Platinum.
Gold Account
The Gold Account is an excellent option for high volume traders. Packed [H2] with bespoke services and experienced trade analysts, the Gold Account requires a deposit of the minimum BTC equivalent of 75,000 USDT. Other benefits include access to the MarketPro 1.0 platform and webinars, Trading Signals, live and personalized trade review sessions, up to 300:1 leverage, direct hot-line to trading war-room, and 24/7 customer support.
Platinum Account
Elite traders can think of ruling the online trading world by opening the Platinum Account with the minimum BTC equivalent of 150,000 USDT. InvestXE claims it to be a top-tier account, for it equips traders with all the tools and resources needed to win the profitable trade. Apart from the Gold Account features, the Platinum Account offers the best spreads up to 5% lower and exclusive access to the VIP rooms.
AutoXE Accounts
Automated trading is a must-have in an online broker. With AutoXE Accounts, traders can make profits without putting extra effort and time while having full control over trade and the money in their brokerage account. It also gives them the privilege of working with trade analysts and trying effective automated trading strategies to excel at trading.
Instruments at InvestXE
As mentioned earlier, InvestXE covers more than 16,000 instruments, which provides traders with a [H3] pwealth of options to earn maximum profits against minimum investments.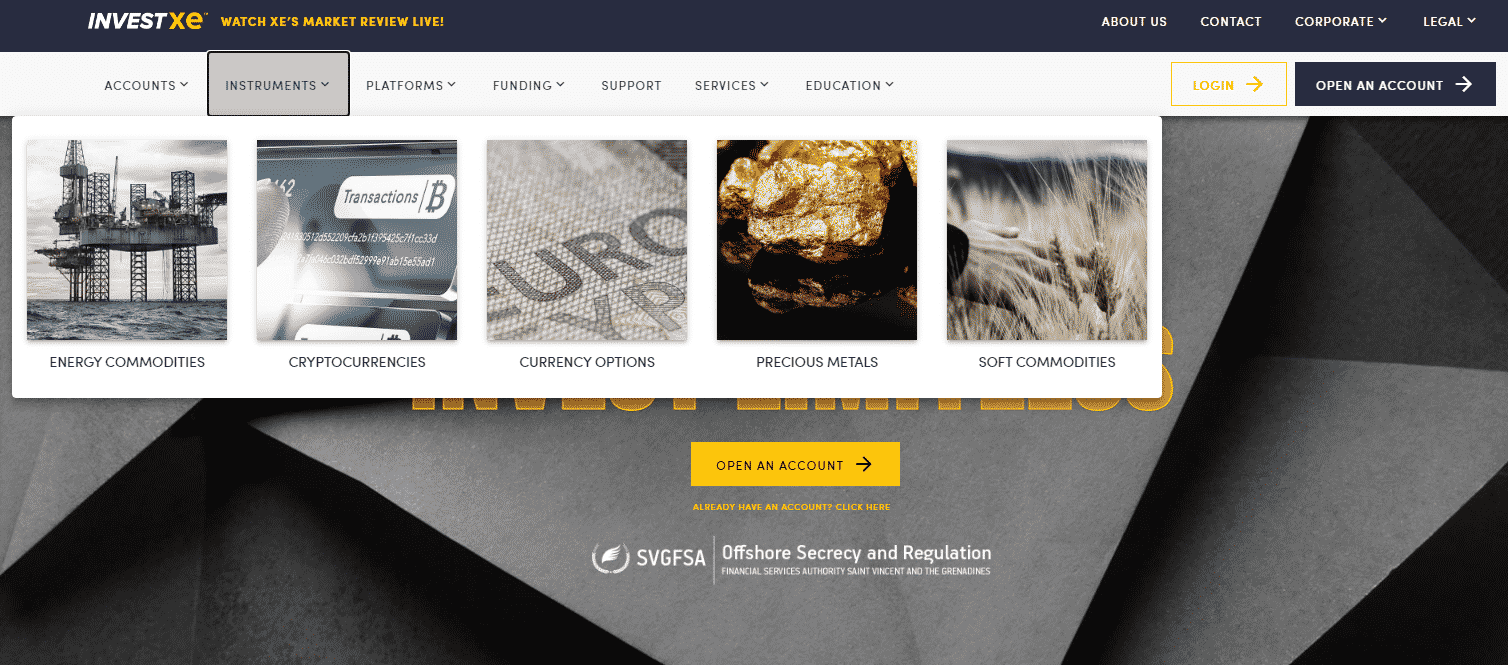 1. Cryptocurrencies
Cryptocurrencies are the latest addition to tradable instruments. [H4] With its first-rate trading tools and invaluable insights, traders can find themselves in a much better position to trade smarter and safer than other traders.InvestXE offers [H4] leveraged crypto options.
 2. Currency Options
Currency options are highly volatile but full of opportunities. InvestXE lets traders trade across 11 trading pairs categorized as Classic, Platinum, and VIP.  Platinum and VIP account holders have access to lower prices per trade.
3. Energy Commodities
Energy commodities are lucrative markets consisting of non-renewables such as oil, gas, coal, and renewables such as solar, wind, geothermal power, and biomass. Since prices are subject to factors like geopolitics, global economy, and weather conditions, InvestXE hosts several risk management tools that allow traders to benefit from these price fluctuations.
4. Precious Metals
Because of their ability to grow in value over time, precious metals have always been traders' favorites in the event of economic crises. At InvestXE, investors can take advantage of its risk-management and tools when trading with Gold, Silver, Palladium, or Platinum.
5. Soft Commodities
Soft commodities are considered to be stable and low-risk instruments. The options provided by InvestXE for soft commodities include cocoa, cotton, coffee, soybeans, sugar, and many more. The best part of trading with soft commodities is that these protect traders' physical position while yielding profit.
Education
Whether you are a novice or expert trader, staying up-to-date with the market trends is crucial. On InvestXe, there is no shortage of educational and training materials. All this not only can help traders understand trading but also improve their trading skills.
1. Educational Courses
InvestXE's extensive educational courses help traders grow their knowledge of financial markets. Here they get to learn about leveraging cryptocurrencies, trading commodities, indices, and stocks, analyzing market trends, using trading strategies, and much more.
2. Online Trading Courses
InvestXE's online trading courses include engaging webinars, virtual learning sessions, and tips on practicing the best trading strategies for cryptocurrencies, energy commodities, indices, stocks, and more.
3. Personal Trading Coaches
When it comes to guiding traders at every step of online trading, InvestXE leaves no stone unturned. By assigning a trading coach, the broker enables traders to benefit from personalized training and mentoring services. With this extraordinary feature, the broker has taken a more focused approach to turn a newbie into a master. No doubt, learning from an industry veteran can help beginners reach the top of the trading ladder.
InvestXE's Trading Platforms
One of the prime reasons for conducting the InvestXE review was to evaluate its various trading platforms. Based on the instruments available, traders' investment capacity, and mode of trading, InvestXE offers five types of trading platforms:
1. Android Trading App
InvestXE's Android Trading app integrates essential trading tools. It notifies traders about new trading opportunities via push notifications, regardless of their availability and activity.
2. iPhone Trading App
InvestXE has made online trading simpler with its intuitive IOS Trader app. Designed to function similarly to the InvestXE Android Trader, the iPhone Trader app is capable of bringing the world of online trading to your palm.
3. MarketPro 1.0 
MarketPro 1.0 comes loaded with some interesting functions like trading robots, technical indicators, copy trading, and currency options via VPS. Powered by highly advanced algorithms, the platform enables traders to analyze different markets in real-time. The platform works very well across all major devices.
4. Tablet Trading App
The InvestXE Tablet Trader app allows traders to trade anywhere, anytime. As far as features are concerned, the app is nothing short of InvestXE's other trading platforms. Traders can easily navigate financial markets and track any changes in asset prices in real-time.
5. Web Trader
InvestXE's WebTrader is the ideal platform for novice traders to begin their journey in online trading. From educating new traders on trading fundamentals and analysis to honing their trading skills to match up the pro, the Web Trader does it all. Its most striking features are market trends and historical trading data to compare different assets, multi-chart capability, risk management tools, and two-factor authentication.
Crypto Funding Basics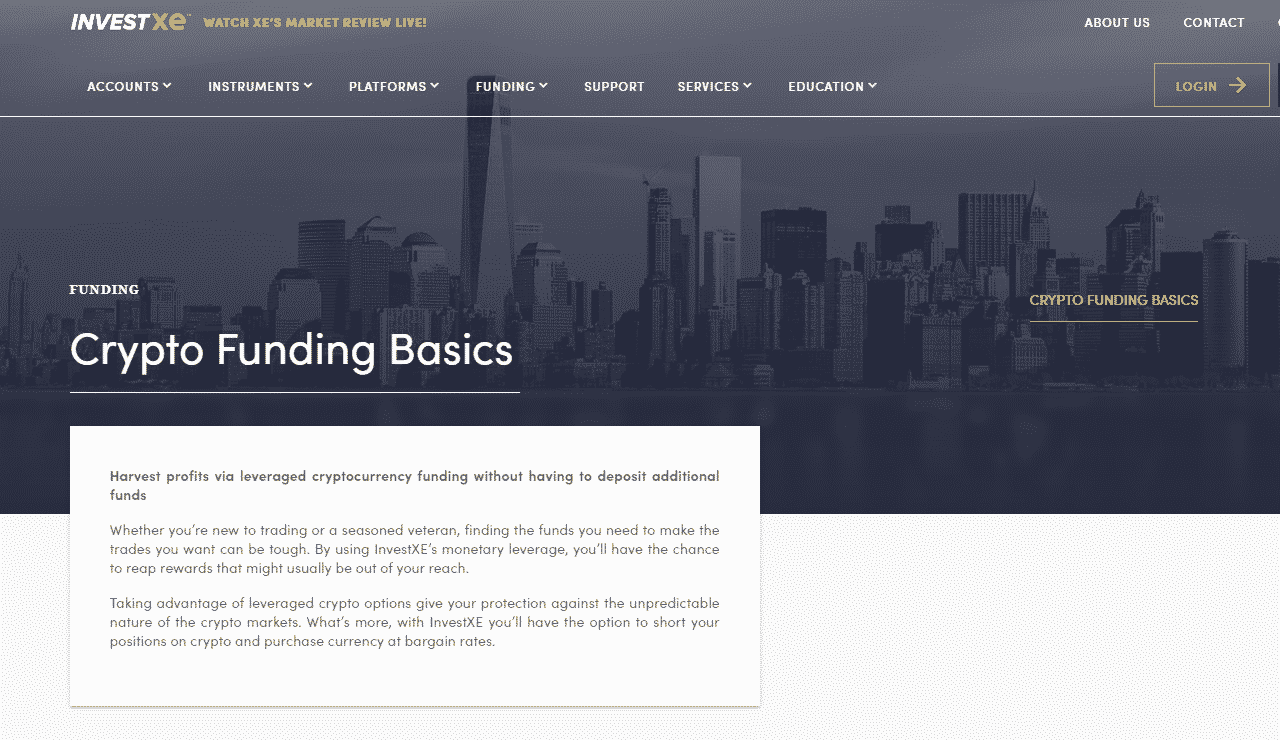 1. Margin Trading
Margin Trading refers to the buying and selling of securities in a single trading session. Sometimes, brokers provide funds as loans to traders. InvestXE keeps trading costs low with competitive margin interest rates.
 2. Leveraged Loans
Choosing from a wide selection of tradable cryptocurrencies and having enough funds to trade them are two different things altogether. But at InvestXE, funding is not an issue as the broker offers monetary leverage for traders of all skills.
InvestXE's Services
InvestXE's personalized services make trading efficient and convenient. Here's how:
1. Dedicated Sales Trader
Trading assets in different markets could be a herculean task considering the time and efforts it demands. Luckily, InvestXE has a team of Dedicated Sales Traders who can take care of the hassles involved with trading and allow you to make better and faster trades.
2. In-House Analyst
Online trading benefits those the most who know how to stay ahead of other traders in the competitive markets. The In-House Analysts at InvestXE guide traders with professional advice, share secrets of trading, and caution them about risky trades.
3. Personal Relationship Managers
Whether you are struggling with understanding technical jargon or identifying a  profitable trade, an experienced industry insider can make everything a lot easier.
4. Personal Trading Courses
No knowledge, no gain – this phrase perfectly applies to online trading. InvestXE has a rich collection of Personal Trading Courses that traders can use to their advantage. Their informational articles about financial market trends are worth a read.
Support
InvestXE is committed to providing support to its customers residing in different parts of the world. From technical queries to trading related issues, its professional support team responds with relevant solutions.
1. Email Support
The InvestXE website lists email addresses for different departments that provide customer support 24/7. You can get in touch with them using these email addresses:
Support – cs@investxe.com
Compliance – compliance@investxe.com
Trading Desk – tradingdesk@investxe.com
Analyst Desk – analyst@investxe.com
2. Whatsapp Support
InvestXE gives traders the facility of getting instant help via WhatsApp. Their efficient technical team immediately responds to consumer queries of all sorts and provides them with the best possible solutions.
3. Telegram Support
Providing support via Telegram further expands InvestXE's reach to its members. The response time and rectification of problems via this mode are commendable as well.
4. Phone Support
Like many other online brokers, representatives at InvestXE are available via phone 24/7 at customer service. Every question related to trading is answered at the earliest by the experts.
Conclusion
By meeting trader expectations, InvestXE has become a trendsetter. We tested the broker on various benchmarks and found it doing exceptionally well. A wide variety of instruments, a multitude of trading accounts, advanced trading platforms, trading robots, personalized trading services, leveraged loans for crypto trading, and excellent customer support; you name it, they have it. It does not matter how experienced you are at trading InvestXE could be your ultimate destination to invest and trade successfully.