Introduction
Also known as Q, AnalystQ is a popular online trading platform introduced in February 2020. However, it has somehow managed to carve a niche for itself in a short time period. With over 16000 tradable assets, it boasts of a client base that spans around 170 nations. AnalystQ is extremely famous because it provides all traders with innovative options for trading and investing in cryptocurrencies, soft commodities, precious metals, energy commodities, and currency options, wonderful resources, and exclusive trading opportunities. Read this AnalystQ review to familiarize yourself with the features and offerings of this platform.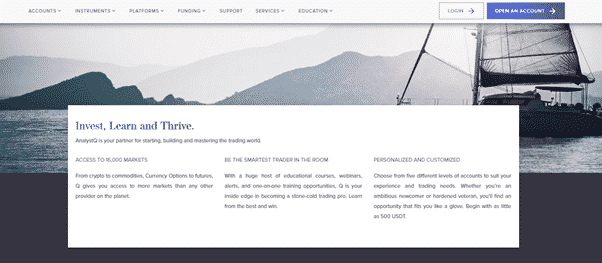 Trading Accounts
AnalystQ is a well-established trading platform that lets people trade using this platform across the world. Traders can register themselves on the AnalystQ platform and get an option to open three types of accounts. All the accounts come with 16000 tradable assets and a notable range of advanced-quality trading systems and tools. Let's have a look at every type of account in detail in this AnalystQ review:
1) Primary Accounts: Opening a Primary Account at AnalystQ is the best option if you're a beginner. The Primary Account has three tiers:

Standard Account: This AnalystQ account offers a full range of tradable assets available on the platform. You need to deposit a minimum amount of 500 USDT to open this account. With this account, you will also get effective trading strategies and smart tips to enhance your trading and earn more profits.
Education Account: This AnalystQ account also offers various tradable assets. Besides effective trading strategies and smart tips, you also get access to the MT5 platform with this account, along with a large library of academic content and trading webinars. The minimum amount needed to open this account is $5000.
Specialty Account: This is the third and the top tier under the Primary Account. It comes with 24/7 support services for guidance. With various tradable assets, best tips, flawless access to the MT5 platform, and webinars library membership, it is the best of all Primary Accounts. Depositing a minimum amount of 25000 USDT can give you access to the Specialty Account.
2) Professional Accounts: For traders with intermediate experience, a Professional Account of AnalystQ is the best option. It offers intuitive trading tools, various trading opportunities, and tailored training. The Professional Account at AnlaystQ is available under 2 tiers:
MarginQ Account: MarginQ account at AnalystQ gives you unlimited phone support, 24/7 access to its exclusive trading room, leverage of 300:1, notifies traders about profitable trading opportunities, and also holds personalized sessions. Besides, traders also get access to its MT5 platform and a library of webinars and academic content. To open this account, a minimum amount of $75000 is required.
Platinum Account: This top tier professional account at AnalystQ offers the most lucrative perks and the best rates. It comes with all the benefits offered by the MarginQ account, along with some additional ones as well. They include a spread lower than 5% and special invites to AnalystQ VIP events.
3) AutomatiQ Accounts: You can now connect your brokerage account with AnalystQ's AutomatiQ account to perform automatic trading. With automatic trading, you can trade with the utmost efficiency using the most lucrative trading strategies. Load the brokerage account with money, choose the preferred trading strategy, and let the bots do the remaining work for you. You can simply sit and wait for profits to come into your account.
Instruments that can be traded on AnalystQ
analyst offers you access to a wide range of instruments. It boasts of more than 16000 tradable assets under those instruments. Let's have a brief look at each of the instruments in this AnalystQ review:
1) Cryptocurrencies: Whether you own cryptocurrencies or not, you can now trade them with AnalystQ. The AnalystQ cryptocurrency trading is mainly advantageous for beginners because the platform is known to predict market volatility and price fluctuations accurately. With its advanced trading tools, traders can perform profitable trading.
2) Currency Options: Now, you can easily and efficiently trade Currency Options at AnalystQ. You can also attend webinars and surf through different educational content before you start trading Currency Options. AnalystQ offers many custom services for its users, including 24/7 chat support, 24/7 trading opportunities, fast access to trading from any device, different maturity ranges, highly efficient pricing from different pips, and real-time evaluation of currency options.
3) Energy Commodities: Energy commodities include both non-renewable and renewable energy resources. Non-renewable resources include oil, gas, and coal, while the renewable ones include biomass, the geothermal, wind, and solar. The AnalystQ platform offers traders with many trading options and top-class customer support. It also offers many risk management tools and academic content for efficient and simple trading of energy commodities.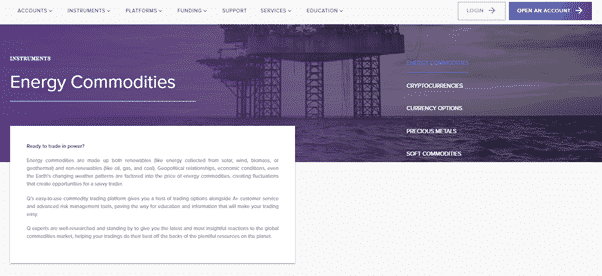 4) Precious Metals: The Precious Metals market keeps experiencing a bullish shift. Traders can profitably trade different precious metals like platinum, gold, palladium, and silver at AnalystQ.
5) Soft Commodities: Trading in soft commodities such as sugar, coffee, cocoa, soybeans, and cotton is worth your investment and highly profitable. Get risk-free opportunities to trade soft commodities on the AnalystQ platform.
Education
To train its traders and instill experience, AnalystQ offers many specialized educational courses and online training courses. Registered traders can sign up easily for them to get more trading knowledge.
1) Educational Courses: To trade efficiently in the different financial markets, you can not use any random strategies. You need to have expertise and knowledge of trading before investing your hard-earned money in these markets. The AnalystQ educational courses cover various topics that are advantageous both for beginners and advanced traders. They include market trends, stocks, indices, commodities trading, cryptocurrency trading, trading strategies, and more.
2) Online Trading Courses: If you are freshly starting in the trading world, AnalystQ is the best platform to get started as it offers many online courses for newbies to learn so that they can turn trading into a great career opportunity. Take up flexible and customized trading courses offered by AnalystQ at your pace. Familiarize yourself with the important online trading aspects before you make it your profession. Registered users get access to virtual learning sessions, resourceful webinar sessions, trading strategies in different financial markets, and more.
3) Personal Trading Coaches: For those who want to become trading experts, AnalystQ offers customized and personalized trading coaches. Traders get an opportunity to study under the best and most experienced coaches and create a solid portfolio. They can get through insights into the trading strategies before they start trading.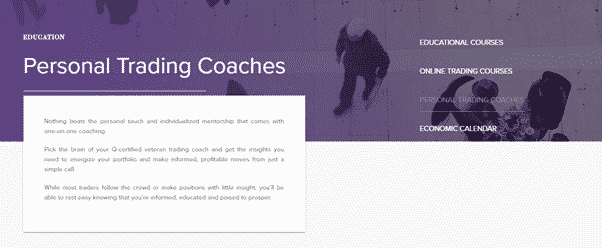 Platforms that are compatible with AnalystQ
With the different AnalystQ platforms, traders can now perform trading on the go. All the AnalystQ platforms are accessible via the web browsers and don't need a download necessarily.
1) Android Trading app Platform: As per various AnalystQ reviews offered by its existing users, the Android trading app platform of AnalystQ is one of the best platforms it has. With a smooth and sleek interface, it allows traders to perform trading easily. It also enables real-time market data analysis, informs traders about the latest trading trends, and keep track of your trading. It also offers 24/7 support to all its registered users.
2) iPhone Trading App Platform: Make the best use of your Apple device by performing trading on AnalystQ using its iPhone trading app platform. The app is well-known for its responsive layout and design. Trade all day using this app and remain ahead in the market.
3) MetaTrader 5 platform: The online MT5 trading platform is also available with AnalystQ. It comes with modern trading technologies and tools and many trading opportunities. Other than these the MT5 platform of analyst also offers many paid and free services like indicators to carry out real-time analysis, AI-driven trading robots to perform trading with maximum precision, access to trading strategists, copy trading feature, Virtual hosting services, and more.
4) Tablet Trading App Platform: If you are a tablet owner, then you can use the Tablet trading app platform of AnalystQ for trading. It offers fast access to the markets and allows trading in real-time. Trading is now made simple with this tablet trading platform. Traders are notified about live prices and real-time trends so that they can make the right decisions.
5) Web Trader Platform: The web Trader platform of AnalystQ comes with a user-friendly and intuitive interface. It lets new traders perform trading actively in various financial markets. You can register yourself on the Web Trader platform to access powerful trading services like market trends, trading history databases, trending assets, novel risk management tools, multi-chart windows, and more.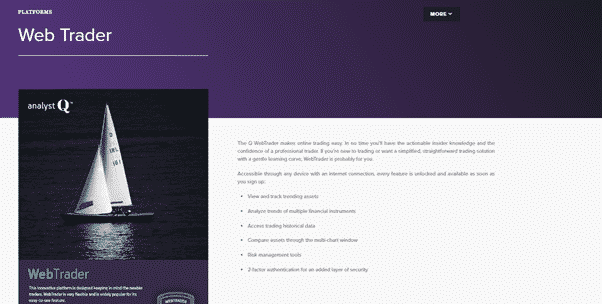 Crypto Funding Basics
Having an appropriate amount of capital is important if you want to trade in the financial markets. Without them, trading will seem to be a dream only. But, you don't need to worry about AnalystQ. The platform helps those who don't have enough money to perform trading by offering reasonable loans.
Margin and leveraged Loans
Margin Loans
You can avail of a risk-free margin loan easily from AnalystQ. This loan is kept secure against the securities of the trader. Hence, a minimum risk of loss is there. By taking a margin loan, you can increase your buying power. This loan doesn't have any closing fee, annual fee, set-up fee, or non-usage fee.
Leveraged Loans
For those who have bad credit scores or aren't able to get a regular bank loan, a leveraged loan offered by AnalystQ is the best option. It is a great option to manage your debts, stabilize your trading balance sheet, and buy stocks.
Services that AnalystQ offers
For registered traders, AnalystQ offers many services to make trading simpler for traders by helping them with in-house analysts, dedicated sales traders, personal trading courses, and personal relationship managers.
Dedicated Sales Trader: The experts at AnalystQ know the stress associated with accurate investment and active trading. Hence, they offer many dedicated sales traders who can help you with the technicalities of the market. They can guide you with funding, sales, volatility risks, and more.
In-House Analyst: AnalystQ in-house analysts can be of great assistance to the traders. They provide sharp insights into the market's risk and trends and offer and offer streamlined help to avoid the traps of the financial markets. This helps the traders make the utmost profits.
Personal Relationship Managers: Traders can navigate through the trading complexities using personal relationship managers. Traders can consult with them at AnalystQ to get the market's volatility under control and make more profits. The personal relationship managers are available 24/7 through personal meetings, phone, email, and live chat.
Personal Trading Courses: Traders can also opt for personal trading courses to learn advanced and rudimentary trading strategies. The veteran coaches and mentors can teach you specialized trading strategies and styles.
Support
Registered users of AnalystQ are offered outstanding customer support 24/7 through email, phone, WhatsApp, and Telegram.
Email Support: AnalystQ has wonderfully quick and efficient email support. For general questions and queries, you can easily contact the customer care representatives via email. There are separate emails for general customer service, trading desk, analyst desk, and compliance.
Whatsapp Support: AnalystQ has WhatsApp support too. The customer care representatives can be contacted 24/7 through text messages. They are quick and efficient.
Telegram Support: Telegram is a commonly used messaging app that is pretty secure and efficient; you can use Telegram to access different services offered by AnalystQ. From uploading a document to performing trading, everything can be done via telegram on AnalystQ.  
Phone Support: The platform has excellent support for residents of all countries that it supports. For people who wish to talk personally to an agent, phone support is perfect. The phone support representatives are prompt, quick, and friendly.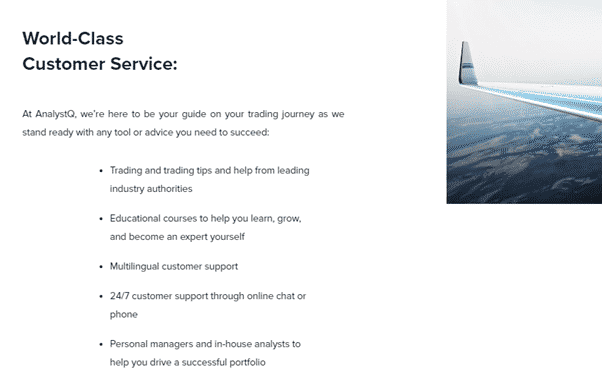 Conclusion
Whether you are a newbie or an experienced trader, the AnalystQ platform is the best for you. It offers many trading opportunities to everyone around the world. Besides different trading avenues, AnalystQ also offers loans at affordable interest rates. This lets you trade even if you don't have enough capital for trading. To clear your doubts about this platform, you can check the AnalystQ reviews that are available on legit review forums and trustworthy websites. The AnalystQ reviews will help you make the right decision.
FAQs
1. How Many Instruments and Assets Can I Trade With AnalystQ?
Ans. AnalystQ lets you trade more than 16000 assets under cryptocurrencies, currency options, energy commodities, precious metals, and soft commodities.
2. Is It Safe To Trade With AnalystQ?
Ans. Yes, it is completely safe to trade with AnalystQ. It is trusted by various traders and the reviews on different review forums and websites prove this.
3. Do I Need Experience To Start Trading With AnalystQ?
Ans. No, you don't need prior experience to trade with AnalystQ. The platform has an AutomatiQ account for those who don't have the required trading knowledge and skills. You can use it to your benefit even if you don't have trading experience. You just need to have enough funds in your brokerage account to use this account. You can then select the preferred trading strategy and the bot will do the rest of the work for you.
4. Which loan is offered by AnalystQ for traders having a low credit score?
Ans. Those who don't have a good credit score can take advantage of leveraged loans offered by AnalystQ.