Introduction
Online trading is a popular option when it comes to realizing successful financial product transactions. Since most brokers now operate online, users also prefer paying attention to the instruments on an online platform. There are many trading platforms that serve many orders like stocks, bonds, ETFs, futures, commodities, cryptocurrency, and much more.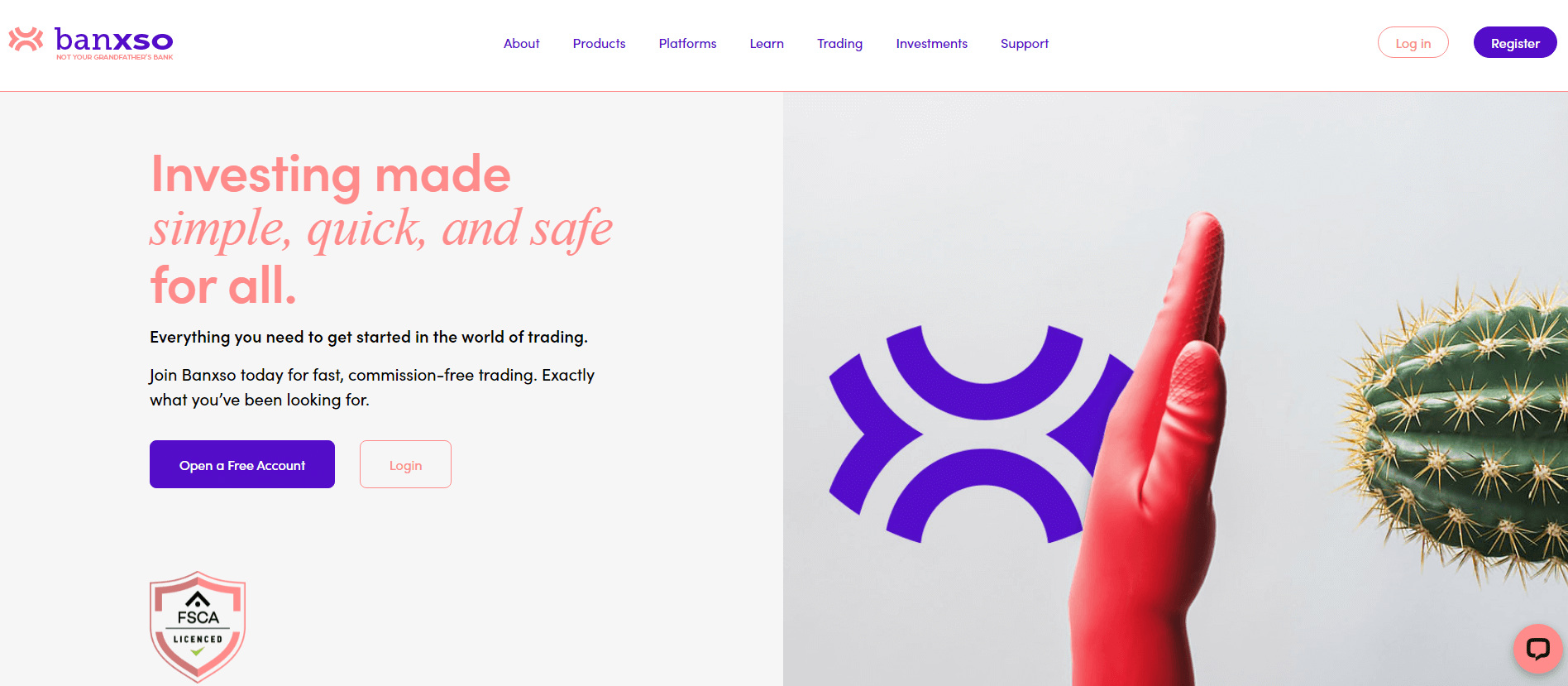 One such platform that offers different instruments and investing platforms for users is Banxso. This write-up will help you better understand the platform. If you have heard about the platform already and are looking for reviews and details about different accounts, you have landed on the right page. So far, the reviews about the platform are pretty good and reliable. So, let's get started!
What is Banxso?
Banxso is a reputable trading platform known for its user-friendly interface and extensive information. Traders searching for a reputable CFD, Forex, Commodities, Indices, and Cryptocurrency trading platform with low fees may want to choose Banxso. The account creation procedure is simple and customer services are excellent. Beginners and professional traders alike will benefit from the platform.
You will never be disappointed with Banxso. Users may trade their favorite stocks and indices whenever they want, thanks to safe growth trading. Banxso also assists customers in identifying their favorite trading assets so that they may diversify their trading portfolio.
Regulation of Banxso 
It's critical to understand the site's legislation and associated jurisdiction before signing up for any online trading platform. After all, it's your money that's on the line. As a result, the trading platform you use must adhere to the jurisdiction's regulations and laws.
Banxso, a CFD-based trading platform, is licensed and regulated in several jurisdictions.
The South African Financial Sector Conduct Authority regulates Banxso's financial trading services (FSCA). The platform is available to all users outside of the European Union. Users from Iran, India, Australia, Cambodia, New Zealand, Nigeria, Pakistan, the Philippines, the United Kingdom, the United States, Canada, Cuba, Israel, Mongolia, North Korea, Panama, Syria, and Yemen are not allowed to register in the region.
Products Offered by Banxso
Banxso provides over 70 different assets which consumers can trade. Banxso is a well-known broker that provides CFDs on a variety of products, including forex, stocks, indices, cryptocurrencies, and commodities. When trading online, users frequently check for their payment perks and hazards.
Payouts will vary according to the individual asset and the appropriate expiry date, just as they do with online traders like Banxso and many other platforms. The success and profit of Forex and CFD trades, for example, are determined by the asset itself. Banxso provides several risk management and warning features, including stop-loss orders and user-defined leverage.
Let's take a closer look at the items available on Banxso:
Forex
If you're a professional trader, you're probably always keeping an eye on currency pair fluctuations throughout the world. Forex trading is both entertaining and addictive for such traders. Forex trading is, without a doubt, one of Banxso's most popular instruments. Banxso's platform is highly stable and trusted by people all around the world, with more than 40 currency pairings accessible. EUR/USD, USD/CAD, AUD/USD, GBP/USD, GBP/JPY, and more prominent currency pairings may be found on Banxso.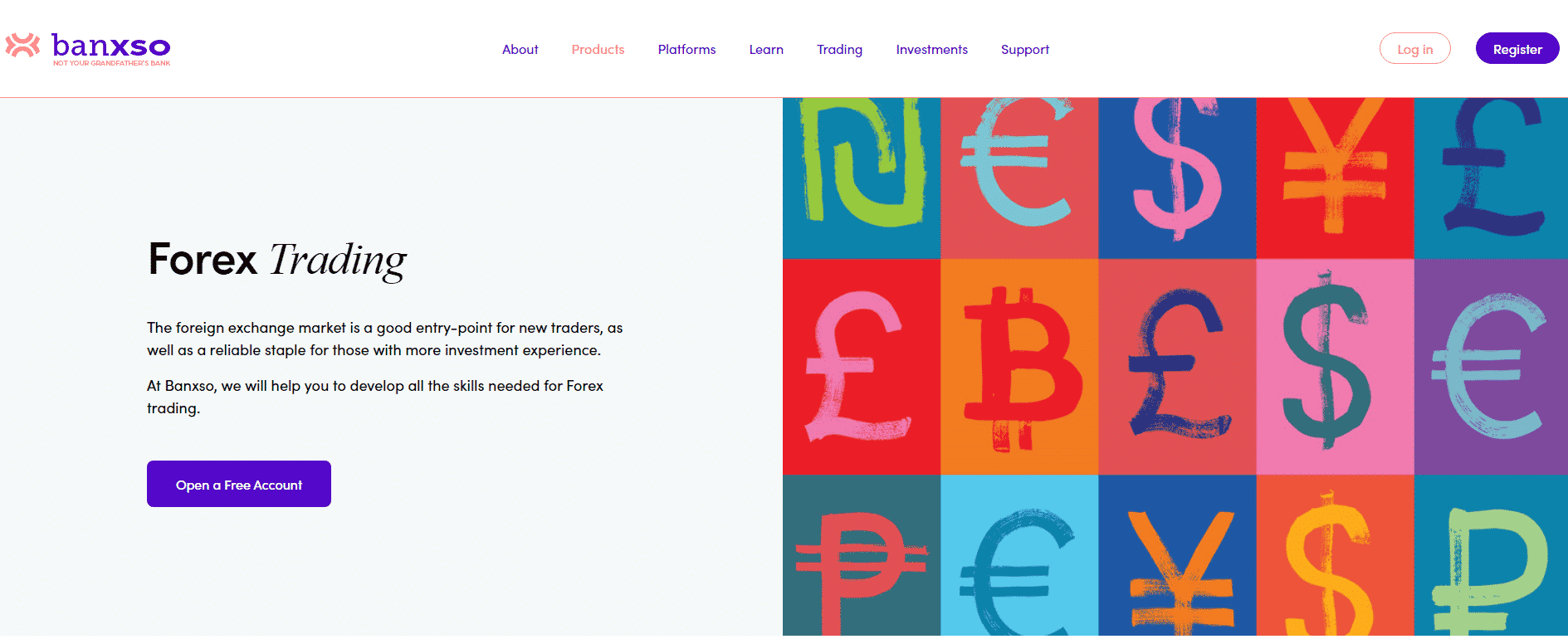 Stocks
CFDs are available on more than 150 equities/stocks from across the world at Banxso. If you're a skilled trader looking for the greatest corporate stocks to invest in, this is most likely the ideal instrument for you. Apple, Google, Tesla, Pfizer, Amazon, Nike, Disney, and a slew of other well-known companies are already in the Banxso basket. The majority of Banxso's equities are traded on the NYSE or NASDAQ.
Commodities
Physical commodities such as gold, silver, crude oil, and others pique the curiosity of many traders. Banxso provides appropriate commodity education and market trends. Many savvy traders like dealing in commodities since the market is so diversified and not prone to devaluation. Banxso provides the ideal platform for these traders by providing the appropriate trading platform and knowing the current commodities trend.
Cryptocurrency
Banxso has made it possible for users to trade digital assets as the demand for cryptocurrency is skyrocketing throughout the world. Banxso accepts Bitcoin, Ethereum, Dogecoin, Litecoin, Dash, and a variety of other digital currencies. If you're new to crypto trading, Banxso offers an education program and personal coaching to help you comprehend the market and how to analyze its volatility.
Indices
Many traders are interested in trading stock indices, which aggregate individual shares of separate banks and businesses. Banxso offers several well-known stock indices, including DAX and Dow Jones.
Trading Platforms Offered by Banxso
It requires a reputed trading platform to trade and earn profits and returns on favorable instruments. Banxso offers two types of platforms for traders:
MetaTrader 5
MetaTrader 5 at banxso is a multi-asset trading platform that supports forex, stocks, and futures trading. It comes with enhanced capabilities for detailed price analysis, algorithmic trading, and copy trading. MetaTrader 5 provides a strong trading system with Market Depth and a system of independent accounting of orders and trades.
The platform is an all-in-one solution that includes powerful analytical capabilities. It allows you to open up to 100 currencies and stock quotations charts at once. The 21 periods offered allow for a thorough examination of every minor price fluctuation. More than 80 technical indicators and analytical tools, including visual objects, are used to analyze quotation dynamics in great detail.
Mobile Platform
Mobile trading is getting more popular as more and more everyday duties migrate from desktop computers to smartphones. Banxso's mobile trading platform functions in a similar way to its desktop counterpart.
The platform is compatible with both Android and iOS devices.
You may trade forex, equities, indices, commodities, and cryptocurrencies on the Banxso mobile platform. There is a Windows platform version of the desktop site. It provides an easy and user-friendly platform for mobile and regular desktop trading, regardless of the device and program version one uses.
Trading Accounts on Banxso 
Now that you've opted to trade on Banxso, you should be informed of the various accounts available. However, there are a limited number of possibilities to examine. Banxso provides traders with the following types of accounts:
Demo Account: A demo account is designed for novice traders who want to learn how to trade various instruments and assets. This trial account assists traders in learning how to purchase and sell their instruments in real-time.
Standard Account: Traders can trade in a basket of more than 200 assets with the standard account. The deposit and withdrawal process is straightforward and speedy. They will also be given access to webinars and other educational programs which will provide them with dependable trading tactics and suggestions.
Trading Experience on Banxso
Trading on any platform needs dedication and perseverance. Traders on Banxso enjoy a high level of trading and perks, as well as an understanding of market trends and the ability to evaluate their transactions.

Banxso offers a variety of technical analysis services that aid in the evaluation of investments and the identification of trading opportunities in price trends and patterns found on charts. Banxso Hells' technical analysts share trading activity and securities price fluctuations. These are important indicators of how the security's price will change in the future. Banxso's technical expertise is focused on the financials of its consumers rather than previous price patterns or stock movements.
What is included under Banxso Education?
Nobody becomes a successful trader within a day. You must have a thorough grasp of the assets to benefit and earn returns in a trading market. Would you invest hundreds of dollars on a digital asset like Dogecoin simply because it has a dog face on it? Of course not! You will trade in Dogecoin when you understand how it operates in the trading market and what the coin's potential is. Banxso also offers traders an education program to help them get such information about various assets.
This program is great for beginners who want to have a better understanding of the market before getting their hands dirty. Banxso provides trading guidance through a series of webinars in which industry professionals discuss the current market trends and discuss prospective advantages and results in the days ahead.
The online education program contains more than just webinars; it also provides trading ideas that assist customers to learn how and when to purchase and sell their assets. Traders gain from these ideas and techniques in the form of higher returns and profits.
Banxso treats and guides everyone equally, whether you are a trader with a $10 trading budget or a trader with a $1,000 trading budget. Patience and up-to-date information are essential in the realm of trading if you want to make more money.
Many independent traders just trade in their spare time. Banxso's education program is an excellent choice for them to grasp and learn about current market trends and make trade selections accordingly.
Banxso Customer Support
Banxso is popular for its customer support team. The platform answers your queries and also helps in providing the best trading experience with better benefits and returns. From knowledge support to trading support; you name it, it delivers it! The customer support team offers the following guidance to users: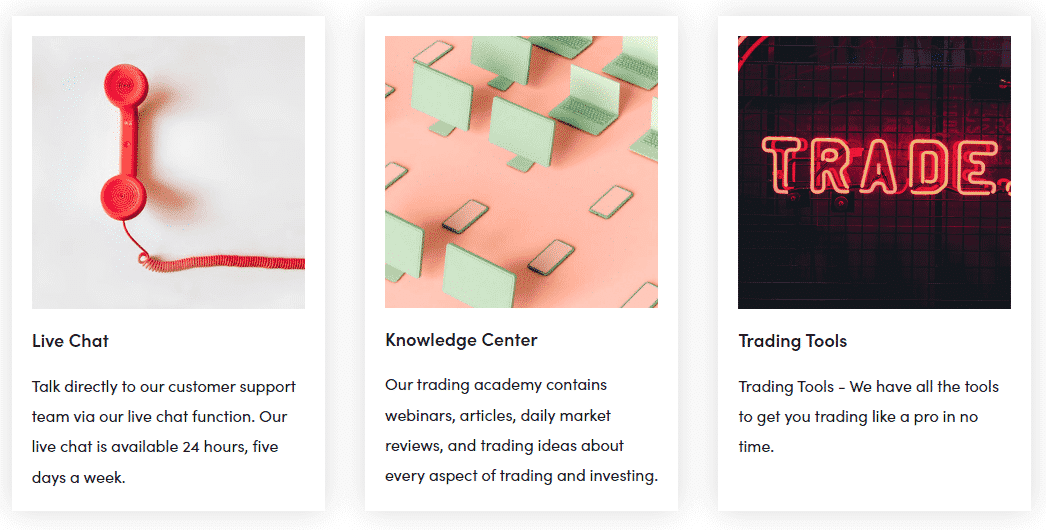 Live Chat
If you are trading in real-time on the platform and face difficulty, you can contact customer support through the live chat option available on the platform itself. Live chat operators respond within a few seconds as they try to resolve your query in the given time. You will be surprised by the professional attitude served even on live chat. The operators understand your query and try to resolve it at the utmost priority.
Knowledge Center 
The customer support team briefs you about the knowledge center operated by Banxso. The team asks you about your experience and knowledge of the financial industry. After understanding your current standing in the financial industry, they suggest the best possible programs to help you gain better returns in the industry. Under this section, users learn every aspect of an investment, assets, and successful trading strategies.
Trading Tools
If you are unfamiliar with the tools and instruments for training, the customer support team will stand right with you to offer knowledge about the same. To become a professional trader, you need to know about the relevant tools required in successful trading and returns.
The customer support of Banxso serves you in many ways. You can contact them in the following ways:
Email: support@banxso.com
Physical Address: Byls Bridge Office Park Building 14, Block B Corner Olivenhoutbosch Road and, Jean Ave, Centurion, 0157, South Africa
Contact Details: 0800997915
Final Thoughts on Banxso
Banxso is a licensed platform with a user-friendly trading interface. Banxso is well-known for its excellent customer service, mobile trading platform, and CFD trading. It provides a wide choice of popular financial products as well as higher returns to consumers. With the recent increase in fraudulent operations in the financial business, traders should be cautious while investing their money.
The volatility of numerous financial markets was at an all-time high during the COVID-19 pandemic, and investors needed a dependable platform to assist them to make smarter investment decisions. Banxso came to their rescue, providing investors with a trading platform apart from a platform to study and comprehend how to trade.
A trader may gain additional advantages by studying how to trade and knowing the newest market trends, in addition to CFD trading. Banxso provides a trader with the perfect amount of expertise and trading experience. Whether you're a seasoned trader or just getting started, the Banxso interface is everything you need.
It does not matter how much market expertise you have. If your trading portal interface is too difficult, you may abandon it and lose your profits. So why not use a dependable and trustworthy platform that will provide you with the finest trading experience and information possible?