Shiba Inu cryptocurrency was launched in the heat of the massive sell-off we witnessed in May 2021 after a tremendous growth trajectory of the entire cryptocurrency domain in the first four months of 2021. 
Shiba entered the crypto-world to replicate the success of Dogecoin with the intention of taking Shiba Inu dog meme images as an inspiration. First launched on Shibaswap, it was termed a Dogecoin killer within the first few days by crypto-experts. 
On a very foundational level, where Dogecoin used a Shiba Inu dog image, the popularity of this loyal Japanese breed took to the skies. On the other hand, the Shiba Inu coin had a Shiba Inu dog image on its digital images and a similar name which helped the value remain at a decent level while it was released for trading. Shiba Inu coin debuted as an anonymous coin and gained support from famous figures such as Elon Musk and Vitalik Buterin. 
The advantage of the Shiba Inu coin over Dogecoin was the sudden support of billionaires Elon Musk and Vitalik Buterin through the series of their tweets and comments. Moreover, identifying itself with the breed of Dog made it popular amongst the masses. 
Although there are a large number of Dog-themed cryptocurrencies launched synonymously with Shiba, the SHIB token offered a much greater prospect. However, their source of motivation still was Dogeocin which skyrocketed from the lows of $0.0002 to nearly $0.75.
The Background Reason Fueling the SHIB price rally 
In recent days, SHIB has supported an NFT platform and launched two more tokens from the SHIBA INU blockchain. It has named one of them Leash and another one as Bone. Compared to the holding pattern, Two wallets at Uniswap hold 10% each of SHIB tokens, while a single wallet keeps 27% DOGE. Comparatively, Dogecoin prices can easily be manipulated. 
The sudden spike we witnessed in October 2021 resulted from the news surrounding its launch of an NFT platform. This move has enabled its meme-based origins into a fundamentally feeding blockchain ecosystem. Despite being developed to mock the existence and rise of Dogecoin, which was launched to mock the Bitcoin rally, we are witnessing a wicked circle of meme coins growing in terms of market capitalization. 
Technical Analysis for SHIB & DOGE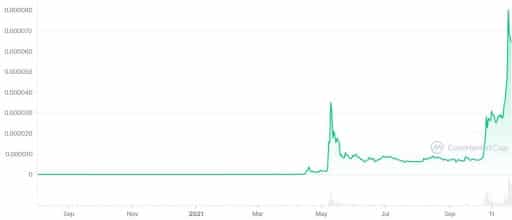 Shiba emerged from the shallow numbers and has been on a growth trajectory ever since, claiming seven zeroes in the last year. Admittedly, there have been weak sessions in Shiba, but it didn't last as a negative sentiment. Instead, it was driven by Vitalik burning 40% of SHIB tokens to a dead wallet. As a result, SHIB can quickly become the top five cryptocurrencies in terms of market capitalization. Moreover, SHIB momentarily surpassed XRP on October 28, 2021.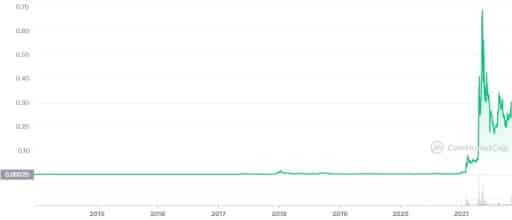 Dogecoin started as a meme for Bitcoin price rise and used a popular meme image of Shiba Inu dog smiling to mock the blockchain sentiment back in 2014. The growth has been substantial, but DOGE has failed to make a mark or surpass its highs before the fall of May 2021. Instead, it is trading at a dip of close to 70% from its 2021 high of $0.75, indicating a longer negative trend supporting the SHIB token claim of being a Dogecoin killer.
Considering the Shiba Inu coin prediction, the rallies we have witnessed put Shiba Inu as a top contender to reach $100 Billion market cap. It is primarily a sentimental belief, but Dogecoin has been holding a position among the top 15 cryptocurrencies for a long time. 
As such, there is a minimal probability of it undergoing a crash. On the other hand, SHIB has been moving like crazy, making it prone to profit booking. 1100% returns in a month are not something that seems sustainable in the short term. 
The current value of SHIB is $36 billion, which is just 178% away from $100 billion. While DOGE has a market cap of USD 39 billion is 157% from the milestone.  Under these circumstances, SHIB is more likely to hit a 100 billion market cap, but Doge is more stable. So it's all about risk vs. stability. 
From another perspective, we have rarely seen anything being done on the Dogecoin ecosystem compared to Shiba Inu, which accommodates more and more features, tokens and NFT, and whatnot.