Dogecoin is believed to have a concurrent momentum with that of the largest cryptocurrency, Bitcoin, and this time this is not less than any legit truth, given Dogecoin's price momentum and recent high that the coin had hit at $0.0137. The long bullish candle of DOGE on the 7-day chart against the US Dollar led to an extended gain of approximately 200% in just a matter of 8 days from the bottom of $0.00466.
Moreover, with Bitcoin hitting fresh highs since the previous ATH of 2017 and having gained notable momentum since the last month, i.e., December 2020, Dogecoin is also moving likewise. It first spurred when Tesla's CEO, the now richest person in the world, retrieved about his affair with Bitcoin and Dogecoin. Elon musk leaving behind Jeff Bezos is definitely a point to ponder upon in consideration to Dogecoin's bullish movement and steep gains.
The CEO of Dogecoin is now the richest person on the planet.

— Blockfolio (@blockfolio) January 7, 2021
As per the recent DOGE Price Prediction, the trend is bullish than ever, and after a flattish trend against the greenback, Dogecoin price spiked, breaching 3-year resistance.
Dogecoin Price Analysis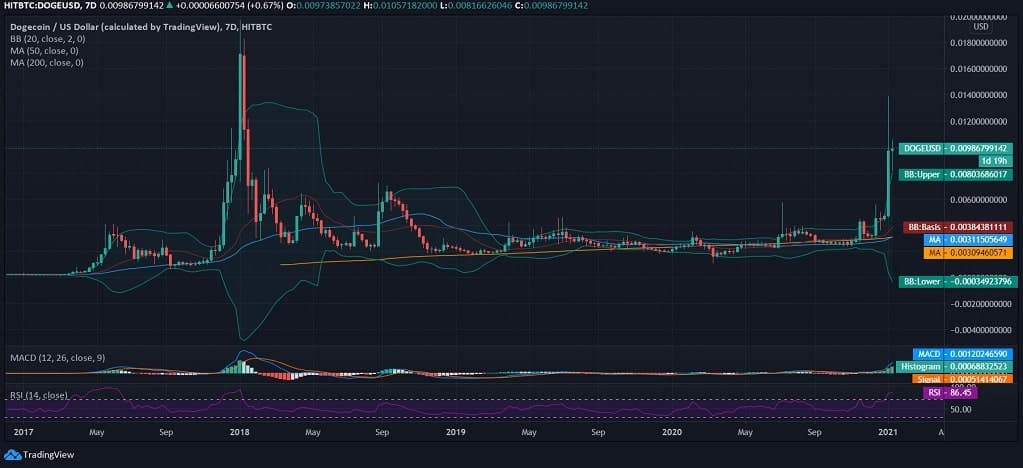 Currently, the Dogecoin price breaches the upper Bollinger Band on the weekly chart with its extended gains that have led to breach the major resistance at $0.0100. However, after an intraday reversal candle, Dogecoin price pulled back from a 3-year high to currently trading at $0.00986. Over the past two years, starting from 2019, Dogecoin was trading with a flattened momentum until the price spike.
It is now that DOGE is holding all the support from 50-day and 200-day weekly MA around $0.0030 that is acting as the critical support area. The technicals are clearly drawing a positive sentiment, and the MACD chart confirms the bullish divergence on the 7-day DOGE/USD as the pair gains massively. The RSI also breakthrough the overbought region as the demand grows bigger and lies at 86.45.