Stellar, one of the top 10 coins of the global crypto market, confirms a dearth of traction just like Bitcoin or any significant altcoins of the market. Stellar as a lucrative platform has extended its reach in many sectors that include loans for World bank, including the Ukraine government choosing Stellar for Central Bank Digital Currency at the onset of this year, Coinbase planning to launch Visa Debit cards that will lead to fetching 4% in the form of XLM and many more.
Moreover, it charges the lowest fees in the market wherein a single transaction costs merely $0.00001, leading to a major adoption, which otherwise will not be the case if the fees were high.
#Stellar Developments in a minute 👏$XLM has a bright future 🔥 pic.twitter.com/Auj5CdWAsu

— Stellar XLM Türkiye 🔺 (@StellarXLMTR) January 10, 2021
Despite the fact the market sentiment remains bearish, XLM, the native crypto of Stellar, holds a bright future due to its profit fetching platform as per the recent Stellar Lumens Price Prediction, click here to read more.
Stellar Price Analysis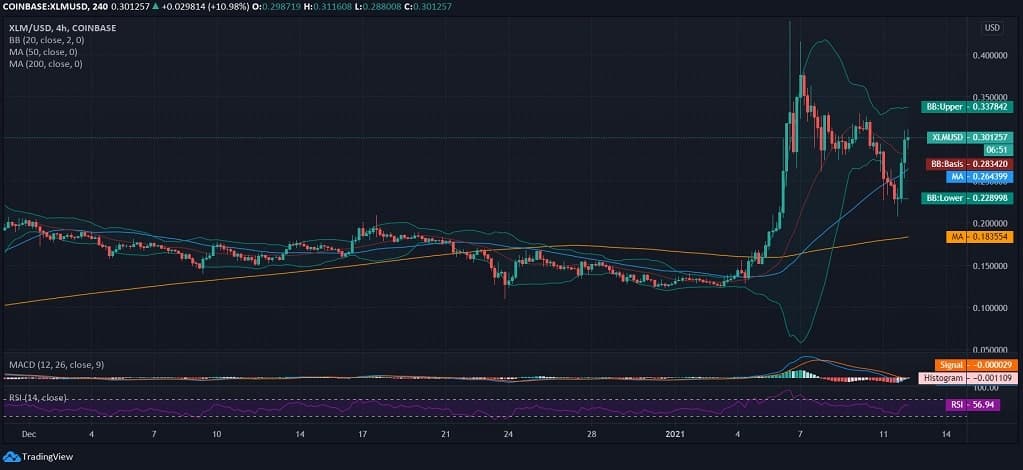 At the press time, Stellar was seen strengthening from the weekly lows with bullish candles extended from $0.184 to $0.312 in the past 24 hours. Although XLM coin gained approximately 70%, the bearish sentiment prevails as the price away from reconciling the current highs that the currency had hit in the previous week. With the gain in the price of Stellar, the price trend is now inclined towards the upper 20-day Bollinger Band after breaching the lower one yesterday.
With a gain in price, Stellar coin retrieved and regained the lost 50-day MA support at $0.264 and retains 200-day MA support at $0.183, while currently trades at $0.301. The MACD is still holding a bearish crossover as the coin is still trading below current highs, but with near-term gain, the RSI has risen from oversold and lies at 56.94.