XRP lost its position amongst the top 3 coins of the crypto market after a clear decline in the previous month's week due to SEC's lawsuit filed against the company. Since then, it has been trading in 4th or 5th position given its rate of comeback and price gain, currently trading at $0.291 after having reconciled to weekly highs of $0.37 at the bygone weekend after which the price nosedived yet again. Over the past three days, XRP price plummeted by over 20% in less than the time it reconciled after hitting bottom at $0.169.
The current strengthening price of XRP is nothing but its comeback, and the lawsuit filed by SEC, if taken aback, will be soaring and retrieving back to lost height. Having come at common grounds, SEC and Ripple are likely to settle, leading to XRP's clear gain in price.
#Xrp will make you happy soon. Another #SEC news coming for $Xrp. It is cryptocurrency. Much wow coming.🚀🚀🚀#Btc #Xlm #Xrp #BNB #ETH

— Altcoin (@CryptoGPO) January 12, 2021
Even though XRP corrected downsides with a steep loss of traction, but a revival is expected as per the XRP price prediction as it cannot be over for the 2nd largest altcoin by market capitalization.
#XRP is gearing up for the biggest bullrun in human history!!

Don't miss out on this wealth transfer of your life!!#XRPcommunity #xrparmy #0doubt #xrpthestandard #xrpisking #Ripple

— MrG-XRP007 (@MXrp007) January 12, 2021
However, the altcoins will gear up only after Bitcoin takes a breather, and it looks like BTC is already suffering a pullback, with the current trading price around $34k.
XRP Price Analysis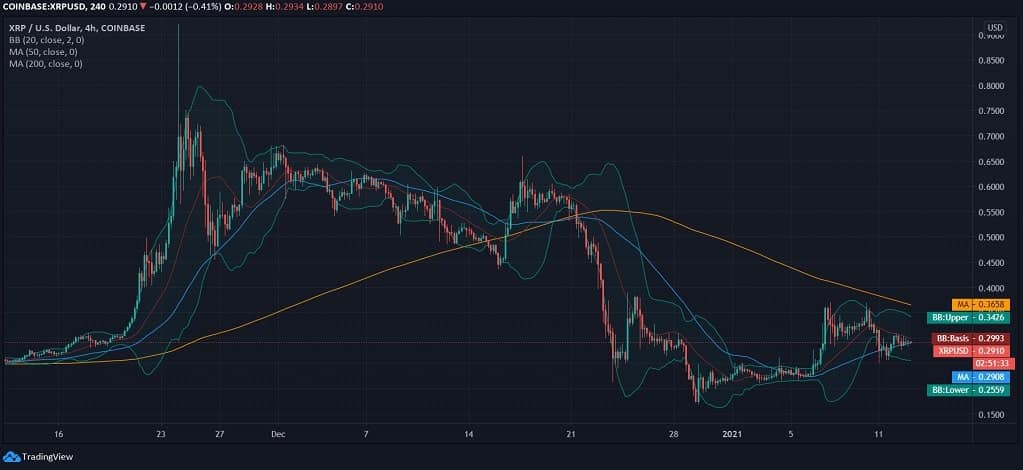 On the above 4-hourly chart, XRP/USD had tested support at low as $0.169 from a bullish candlewick high above $0.900 before the lawsuit was filed. Having bottomed out, XRP lost massive support from 200-day MA at $0.365 and is testing 50-day MA 4-hourly support at $0.2908, the current trading price at $0.2910.
XRP, from the recent crash to recent reconciliation, has gained over 115% in 10 days after hitting the bottoms against the US Dollar, but the massive gain in price also remains subdued due to no traction in the market.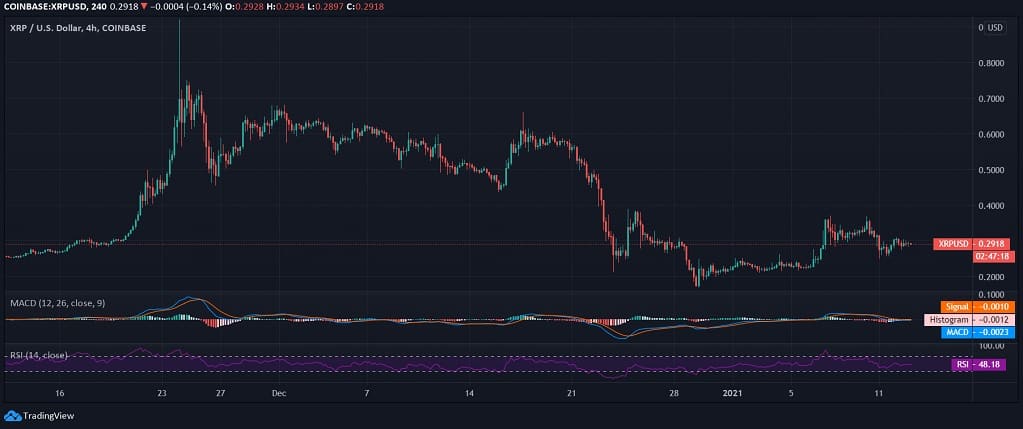 The technical confirm the loss of traction and bearish crossover sideways, as the signal lien takes over the MACD line with a flattish momentum due to no active support. The RSI is lying at 48.18 with no major steep movements, it is away from hitting either of the extremities.